Trusts & Estates
Trusts & Estates
Attorney Liability: Estate Planning and the Strict Privity Rule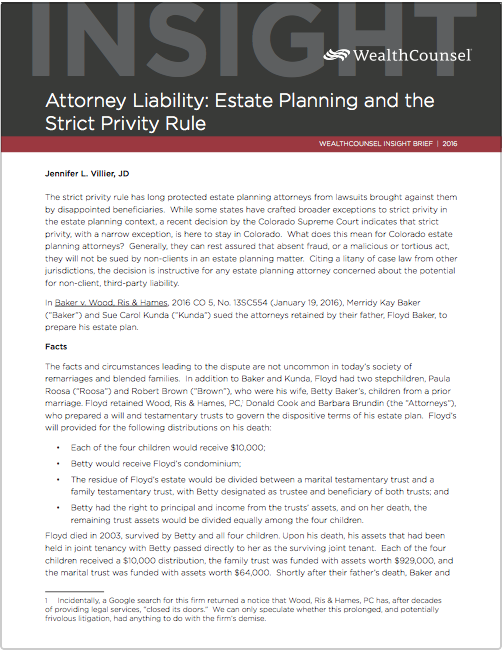 by Jennifer L. Villier, JD | Business Law Faculty, WealthCounsel
The strict privity rule has long protected estate planning attorneys from lawsuits brought against them by disappointed beneficiaries. While some states have crafted broader exceptions to strict privity in the estate planning context, a recent decision by the Colorado Supreme Court indicates that strict privity, with a narrow exception, is here to stay.
While this case only concerns Colorado attorneys, the opinion is also helpful to practitioners in other states as well and highlights several key best practices when dealing with non-clients to protect the client's wishes — and the attorney from potential litigation.
Please download this Insight Brief to learn more about Baker v. Wood, Ris & Hames, 2016 CO 5, No. 13SC554 (January 19, 2016) and its implications for trusts and estates planning attorneys.
---
Complete the form to get your free guide
Get the Premier Magazine for Industry Thought Leaders