Articles
Inflation Fixation: Where Will It End?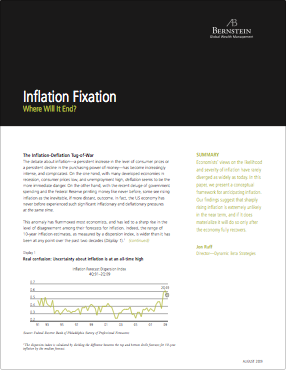 by Jon Ruff, Director, Dynamic Beta Strategies
Bernstein Wealth Management Research Reports
Economists' views on the likelihood and severity of inflation have rarely diverged as widely as today. In this paper, we present a conceptual framework for anticipating inflation. Our findings suggest that sharply rising inflation is extremely unlikely in the near term, and if it does materialize it will do so only after the economy fully recovers.
Learn more about how inflation and deflation impact the economic and investing environment by downloading this document.